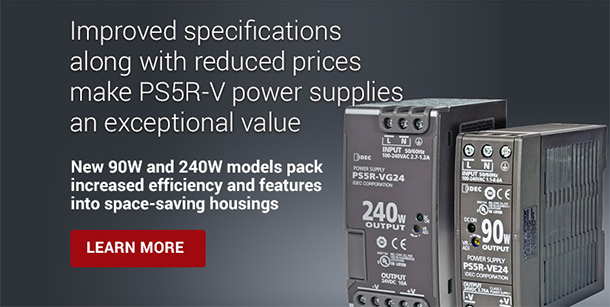 As a leader in the industry, our engineers continuously research new and better solutions to increase the efficiency and safety of our products. At IDEC, power supplies aren't just an "add-on" product; they are the foundation of a reliable application. We are committed to upholding the highest standards of manufacturing and design to produce a complete line of power supplies that outlast and outperform the competition!
Our versatile line of PS6R power supplies are the first in the industry with attachable DC-DC converters that provide multiple voltage outputs from one unit! Able to meet the ever-changing demands of your application, these power supplies combine big power in a small package, providing space savings and less wiring time. The bottom line is a less expensive system build and the flexibility to change your power requirements as your application evolves! Here at IDEC, innovation is our standard. Look below for a snapshot of how we have changed the industrial power supply landscape.
The new PS5R-V series carry on the strong legacy and proven track record of the PS5R family by providing expanded temperature ranges, increased efficiencies and greater MTBF values, all in housings that are significantly smaller than previous generations. PS5R-V also features an impressive list of approvals and certifications, including UL 508, SEMI F47, Class I Division 2 for hazardous locations, and RoHS. The value they provide is exceptional, and the cost savings they bring are impressive!
Compact size preserves panel space
Slim size (width): 22.5mm (10W/15W/30W), 36mm (60W/90W), 46mm (120W), 60mm (240W)
Universal Voltage Input: 85-264V AC/100-370V DC
Wide operating temperature range
Spring-up terminals accept ring & fork terminals
Approved for use in Class I Division 2 hazardous locations
Can be installed in 6 directions
10W ~ 90W meet NEC Class 2 output ratings
Overcurrent protection with auto-reset
Meets SEMI F47 Sag Immunity (208V AC input)
RoHS compliant
Five-year factory warranty